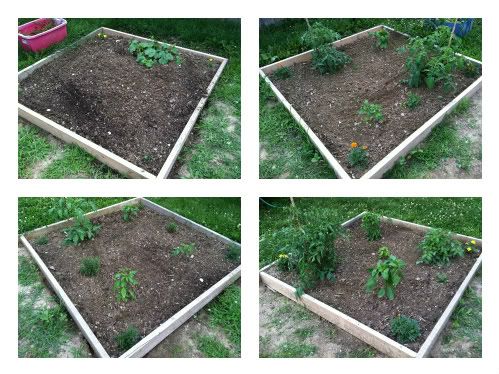 What weather we are having here in central Indiana. The springs are more unusual by the year. It is raining at least three times per week and the temperature fluctuates from 90s one day to high 60s the next. Most people I know are sick of the rain, and I was too until I was able to plant the garden. Now, I say bring it on!
The Cherokee Purple is out of control. In fact, I did some heavy handed pruning today. It is the only one with a tomato growing. No, the Early Girl has one, too, but it's still in its infancy. I am excited to see the Black Krim doing well. Two years ago I tried a Black Krim and something ate it down to the soil line and it never recovered. The Roma is bushy with flower buds and the Pink Brandywine has two large buds. The poor German Queen was growing sideways and when I tried to stand her up, I heard a crack in the stalk. Forunately, it had another, smaller, stem growing out of the soil so perhaps that will take off.
Cherokee Purple
Pink Brandywine
German Queen
The peppers all look great for the most part. It looks as though birds are trying to eat the leaves. There are long tear marks in some of them. There are flowers on most and a few fruits starting to grow on the green bell. The melon has several flowers, most of which appear to be male at the point. Rosemary, thyme, and parsley are holding their own. Cilantro bolted immediately and my son finished it off when he ripped it out of the soil. *sigh* Three year olds. At least he didn't pick my tomato.
Melon