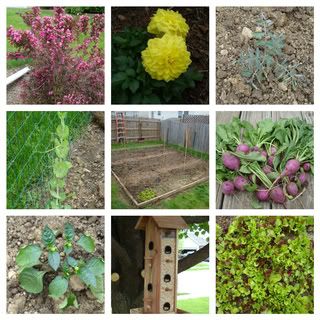 Top Row: 3 year-old Weigela, Newly planted Dahlia, Newly transplanted Matt's Wild Cherry tomato
Middle: Pea, Boxed in garden, Purple Plum radish harvest
Bottom: Newly transplanted Odessa Market bell pepper, New birdhouse, Rocky Top lettuce mix.
Very successful day in the garden! I accomplished all the tasks mentioned in the post below with the help of my husband. All before a big nasty rainstorm approached central Indiana.
The time is right to plant, in my opinion. It will be cloudy and overcast the next 3-4 days, nighttime temperatures will remain in the mid-50s, and rainshowers are expected! I didn't want them to burn up under the hot sun. Only time will tell if I did the right thing. I still have half of the tomatoes left under my lights - they aren't fairing too well. I may pot up those and give them another week or so, along with the hot peppers and eggplant.